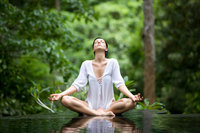 In our modern world, we're constantly surrounded by and inundated with a multitude of chemicals and toxins, from pesticide residues, to pthalates, to you name it. To make matters worse, the average diet definitely leaves a lot to be desired in terms of nutrition.
Couple this with the stress of living in tough economic times and warnings from the media of looming fiscal cliffs, and it's no surprise if we end up feeling totally strung out. Here at Mood & Mind we're certainly not immune.
In an attempt to optimize our well being, we've recently beenfollowing the cleanse and detox program set out in the book "Clean: The Revolutionary Program to Restore the Body's Natural Ability to Heal Itself" by Dr. Alejandro Junger and have already had some great results. In addition to juicing (here's our juicer and we love it: DASH Juicer), we've also been using our own Green Superfood Powder daily as part of our cleanse and detox.

We've noticed our mood, energy, and general well being has improved even after less than a week of following the program. It's certainly no fun, as you have to cut out just about everything you really want to consume, but the benefits so far have been well worth it.

*Note, this article (and all of our articles) are only for informational purposes only and do not constitute professional advice. Having said that, we think it's worth looking into if you're wanting to feel your best.