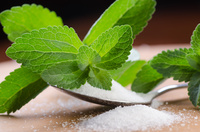 If you're anything like us, you've been baking up a storm this holiday season. From Thanksgiving through the New Year, there seems to always be a reason for celebrating. Now as we welcome the New Year, we start thinking about resolutions to improve our health. Maybe you're considering cutting sugar out of your diet. Removing sugar from your diet can be very beneficial to your health, but it can be tough to quit!
Our Organic Stevia Extract and Organic Monk Fruit and Stevia Extract Blend are natural ways to sweeten anything without sugar. Organic Stevia Extract is a simple way to replace sugar, but we'd suggest the Monk Fruit and Stevia Blend for baking because the Monk Fruit adds a delicious hint of caramel or brown sugar flavor as well.
There are many resources for recipes using Stevia extract, but there is such a variety of Stevia products it can sometimes be difficult to know how much to use. Here's a handy chart for adjusting measurements in recipes to convert from sugar to pure stevia extract.
| | |
| --- | --- |
| Sugar Amount | Equivalent Stevia Powdered Extract |
| 1 cup | 1 teaspoon |
| 1 Tablespoon | 1/4 teaspoon |
| 1 teaspoon | 1/32 to 1/16 teaspoon |
When replacing a large amount of sugar in the recipe, you will need to substitute some bulk as well. For every 1 cup of sugar you replace with stevia, use 1/3 cup of bulking agent. Some options for bulking agents are egg whites, yogurt or fruit puree. If you're already using something like a banana or another bulking agent in the recipe, just add more. Your batter should flow smoothly and not be too liquid or too chunky.
While you're improving your health, check out our other products to get you on the right track as we begin a new year. It's easy to add just a thing or two to your routine to start looking out for your well-being. Add Superfood Organic Green Powder, Enerjoy, Organic Optimum Superfood Blend or any of our smoothie mixes to a morning smoothie to jumpstart your day. Adaptogens like Panax Ginseng, Ashwagandha and Maca Root can keep you on track throughout the day by providing a healthy balance. If weight loss is something you're working towards, adding Garcinia Cabogia to your diet can help along with diet and exercise with an added benefit of boosting your mood!
Start 2016 with a happier, healthier and more energetic you!